Josh O'Neal wins county amateur championship for 2nd time...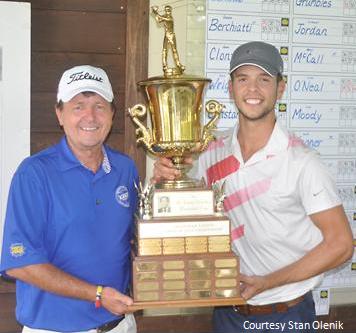 Fired a final round 66 to get the victory
Josh O'Neal fired a 6-under par 66 to win the 47th Annual Purple Power Greenville County Amateur Sunday at the Furman University Golf Course. With the win, O'Neal joins an elite group of Greenville County golfers that have won the championship more than once. He joins Tommy Gaul, Frankie Impson, Billy Hong, Chris Patton, Trey Bridwell, Tim Garrett, and this year's 3rd place finisher Bobby Hines as players winning twice. Hines won in 1996 & 1998. Bill Lovett won the event 3 times, while also competing this year was four time champion Mike Gravley, who finished 16th in the 141 man field. O"Neal won in 2012 at Bonnie Brae, but it may be a while before he has a chance at a third title, as he has plans to turn professional in the next few weeks.
Starting much earlier than the guys near the lead on Sunday because of his three over 75 on Friday, O'Neal quietly posted a sizzling 66, then had to sit under the Pavilion scoreboard area and wait it out. The perceived leaders were teeing off on #15 when O'Neal's 66 was posted, but it didn't take long for word to reach back out to the course that they were not only competing with each other, but a 3 under total had been posted. Zach Bishop and Hayden Garrett had come through 13 at two under and Hines at two over. Bishop fell off late with some putting misses, while Hines holed out from the fairway for an eagle at 15. Garrett also got a birdie at 15 to tie O'Neal at three under. But a bogey on the next hole and an 18th hole narrow miss on a long putt for a birdie gave O'Neal the championship. Garrett finshed in 2nd while Hines got third place alongside Bishop at even par 144.
Fox Run Country Club repeated as the winner of the Allison Cup team competition. The three lowest scores from member clubs are counted each day. Furman & Green Valley got 2nd & 3rd in the team competition.
Flight winners were as follows Dillard Traynham 1st Flight - Michael Polger, Cathead Stroud 2nd Flight - Joseph Fuller, and Michael Christie 3rd Flight - Brad Hawkins. Complete scores can be seen by clicking the link below!
To see a really nice video recap from The Golf Club SC's Facebook page click the link below.
NOTE- this year was the 1st time since 1994 that the championship was decided by 36 holes. The tournament went to a three day format in 1995 at Pebble Creek when Gravley won the last of his four titles. The complete 18 hole washout was the first time since 1977 when the final round at Paris Mountain Golf Club (now Summersett) was rained out. The golfers would return the next Sunday to play the final round as Lovett would win his first County Championship.
Thanks to everyone who participated, and to Furman University Golf Course for being such great hosts. A special thanks to Purple Power for being such a great presenting sponsor of the Greenville County Amateur!
Greenville News photos...click here

Championship Flight

Josh O'Neal - 75 - 66 - 141 (2014 Champion)

Hayden Garrett - 72 - 70 - 142

Bobby Hines - 70 - 74 - 144

Zach Bishop - 70 - 74 - 144

Chris Eassy - 74 - 71 - 145

Colby Patton - 72 - 73 - 145

Casey Owens - 72 - 74 - 146

Marcus Grumbles - 75 - 71 - 146

Dan Constantino - 74 - 73 - 147

Rick Cobb - 75 - 72 - 147

Tim Garrett - 75 - 72 - 147

Dennis Schwab - 72 - 76 - 148

Matt Faulkner - 74 - 75 - 149

Mark Torres - 71 - 78 - 149

Geno Berchiatti - 73 - 76 - 149

Adam Edens - 75 - 74 - 149

Chase Cale - 76 - 74 - 150

Ron Clontz - 73 - 77 - 150

Mike Gravley - 74 - 76 - 150

Duff Wagner - 75 - 75 - 150

Chris Wilkens - 76 - 74 - 150

Shane Grumbles - 74 - 77 - 151

Michael Jordan - 75 - 77 - 152

Robert Lutomski - 74 - 78 - 152

Levi Moody - 75 - 78 - 153

Ryan Wright - 73 - 80 - 153

Todd Eckstein - 76 - 78 - 154

Adam Garrett - 76 - 78 - 154

Doug Edwards - 75 - 80 - 155

Benji McCall - 75 - 80 - 155

Dean Nance - 74 - 81 - 155

Bradley Tedstone - 76 - 79 - 155

Russ Gillig - 74 - 82 - 156

Bobby Kline - 76 - 80 - 156

John Ferguson - 75 - 82 - 157



First Flight

Michael Polgar - 78 - 71 - 149

Mike Hartin - 77 - 72 - 149

Richard Cox III - 78 - 72 - 150

Brian Kelley - 79 - 73 - 152

Griffin Hyde - 79 - 74 - 153

Todd Satterfield - 78 - 75 - 153

Doug Appleby - 79 - 75 - 154

Jay Stephens - 77 - 77 - 154

Kurt Waldthausen - 78 - 76 - 154

Bill Hathaway - 79 - 76 - 155

Bobby Powell - 77 - 78 - 155

Jim Barber - 79 - 77 - 156

David Ellington - 79 - 77 - 156

Steven Kirven - 78 - 78 - 156

Doug Tooke - 77 - 80 - 157

Cory Tonneson - 77 - 81 - 158

Matt Covington - 79 - 80 - 159

Jack Obermeier - 78 - 81 - 159

Zachary Thrasher - 79 - 80 - 159

Mark Easley - 78 - 82 - 160

Keith Fowler - 78 - 83 - 161

Donald Craig - 79 - 83 - 162

Scott Friday - 79 - 83 - 162

David League - 78 - 89 - 167

Robbie Gravley - 77 - W/D

Cary Sanders - 78 - W/D



Second Flight

Joseph Fuller - 80 - 72 - 152

Bradley Kauffman - 80 - 72 - 152

Tucker MacDonald - 81 - 72 - 153

Ken Kirkland - 80 - 73 - 153

Jose Alvarez - 81 - 72 - 153

Matt Jones - 81 - 73 - 154

Mark Moody - 80 - 74 - 154

Michael Selvagio - 82 - 73 - 155

Yancey Johnson - 80 - 75 - 155

Jesse Baldwin - 81 - 74 - 155

Matt Wiley - 80 - 77 - 157

Benji McGaha - 81 - 76 - 157

Trip Welch - 81 - 77 - 158

Jack Alexander - 82 - 76 - 158

Michael Campbell - 82 - 76 - 158

Bennett Gilyard - 81 - 77 - 158

Austin Ornelas - 81 - 79 - 160

Nathan Banks - 80 - 80 - 160

David Younts - 80 - 80 - 160

Matthew Gutchow - 81 - 80 - 161

Brady Adams - 81 - 80 - 161

Tim Schwab - 81 - 80 - 161

Rob Reeves - 80 - 82 - 162

Ty Balkcum - 81 - 81 - 162

David Bayko Jr - 82 - 81 - 163

Rob Johnson - 82 - 81 - 163

Jerry Petty - 82 - 83 - 165

Mike Minyard - 80 - 86 - 166

Robert Burgess - 82 - 85 - 167

Conner Merrell - 80 - 91 - 171

Trey Werner - 82 - DNS

Neil Brown - 80 - NC

Todd Reid - 80 - DNS



Third Flight

Brad Hawkins - 83 - 74 - 157

Todd Hendley - 83 - 74 - 157

Kevin Yancar - 84 - 74 - 158

Christopher Earl - 83 - 77 - 160

Thomas Garrett - 84 - 76 - 160

Robert VanAkelijen - 84 - 77 - 161

Derrick Hiott - 83 - 80 - 163

Wes Reeves - 84 - 79 - 163

Jimmy Gaffney - 89 - 74 - 163

Jason Woodard - 83 - 81 - 164

South Lewis - 84 - 80 - 164

Connor Roy - 86 - 80 - 166

Bob Van Norden - 86 - 80 - 166

Will Abercrombie - 85 - 82 - 167

Charly Van Norden - 85 - 82 - 167

Daniel Baker - 89 - 78 - 167

Bob Martin - 87 - 81 - 168

Tim Reardon - 90 - 78 - 168

Wade Hyder - 87 - 82 - 169

John McNamara - 84 - 86 - 170

David Sarkela - 87 - 83 - 170

Jeff Jaeggi - 92 - 78 - 170

Jonah Smith - 92 - 78 - 170

Dan Fowler - 86 - 85 - 171

Scott Burton - 87 - 84 - 171

Corey Turner - 85 - 87 - 172

Jonathan McKee - 86 - 86 - 172

Matt Brewer - 88 - 84 - 172

Ross Ellis - 88 - 84 - 172

Mark Bunnell - 91 - 82 - 173

Dan Collins - 87 - 87 - 174

Mark Souza - 91 - 83 - 174

Dale King - 88 - 88 - 176

Mike Burdine - 90 - 87 - 177

Jeff Millwood - 94 - 86 - 180

Spencer Hynd - 96 - 89 - 185

Dennis Barnes - 95 - 94 - 189

Phil Grumbles - 83 - DNS

Craig Hall - 83 - DNS

Terry Willis - 83 - DNS

Robert Worsham - 83 - DNF

Justen Peace - 84 - NC

Jeffrey Wickliffe - 84 - DNS

Jonathan Tucker - 85 - DNS

Thomas Laney - 87 - DNS

Brooks Burleson - 90 - DNS

Chuck Orr Jr. - 92 - DNS



47th Annual Purple Power Greenville County Amateur Championship - Friday scores
Zach Bishop - 70
Bobby Hines - 70
Mark Torres - 71
Hayden Garrett - 72
Casey Owens - 72
Colby Patton - 72
Dennis Schwab - 72
Geno Berchiatti - 73
Ron Clontz - 73
Ryan Wright - 73
Dan Constantino - 74
Chris Eassy - 74
Matt Faulkner - 74
Russ Gillig - 74
Mike Gravley - 74
Shane Grumbles - 74
Robert Lutomski - 74
Dean Nance - 74
Rick Cobb - 75
Adam Edens - 75
Doug Edwards - 75
John Ferguson - 75
Tim Garrett - 75
Marcus Grumbles - 75
Michael Jordan - 75
Benji McCall - 75
Levi Moody - 75
Josh O'Neal - 75
Duff Wagner - 75
Chase Cale - 76
Todd Eckstein - 76
Adam Garrett - 76
Bobby Kline - 76
Bradley Tedstone - 76
Chris Wilkens - 76
Robbie Gravley - 77
Mike Hartin - 77
Bobby Powell - 77
Jay Stephens - 77
Cory Tonneson - 77
Doug Tooke - 77
Richard Cox III - 78
Mark Easley - 78
Keith Fowler - 78
Steven Kirven - 78
David League - 78
Jack Obermeier - 78
Michael Polgar - 78
Cary Sanders - 78
Todd Satterfield - 78
Kurt Waldthausen - 78
Doug Appleby - 79
Jim Barber - 79
Matt Covington - 79
Donald Craig - 79
David Ellington - 79
Scott Friday - 79
Bill Hathaway - 79
Griffin Hyde - 79
Brian Kelley - 79
Zachary Thrasher - 79
Nathan Banks - 80
Neil Brown - 80
Joseph Fuller - 80
Yancey Johnson - 80
Bradley Kauffman - 80
Ken Kirkland - 80
Conner Merrell - 80
Mike Minyard - 80
Mark Moody - 80
Rob Reeves - 80
Todd Reid - 80
Matt Wiley - 80
David Younts - 80
Brady Adams - 81
Jose Alvarez - 81
Jesse Baldwin - 81
Ty Balkcum - 81
Bennett Gilyard - 81
Matthew Gutchow - 81
Matt Jones - 81
Tucker MacDonald - 81
Benji McGaha - 81
Austin Ornelas - 81
Tim Schwab - 81
Trip Welch - 81
Jack Alexander - 82
David Bayko Jr - 82
Robert Burgess - 82
Michael Campbell - 82
Rob Johnson - 82
Jerry Petty - 82
Michael Selvagio - 82
Trey Werner - 82
Christopher Earl - 83
Phil Grumbles - 83
Craig Hall - 83
Brad Hawkins - 83
Todd Hendley - 83
Derrick Hiott - 83
Terry Willis - 83
Jason Woodard - 83
Robert Worsham - 83
Thomas Garrett - 84
South Lewis - 84
John McNamara - 84
Justen Peace - 84
Wes Reeves - 84
Robert VanAkelijen - 84
Jeffrey Wickliffe - 84
Kevin Yancar - 84
Will Abercrombie - 85
Jonathan Tucker - 85
Corey Turner - 85
Charly Van Norden - 85
Dan Fowler - 86
Jonathan McKee - 86
Connor Roy - 86
Bob Van Norden - 86
Scott Burton - 87
Dan Collins - 87
Wade Hyder - 87
Thomas Laney - 87
Bob Martin - 87
David Sarkela - 87
Matt Brewer - 88
Ross Ellis - 88
Dale King - 88
Daniel Baker - 89
Jimmy Gaffney - 89
Mike Burdine - 90
Brooks Burleson - 90
Tim Reardon - 90
Mark Bunnell - 91
Mark Souza - 91
Jeff Jaeggi - 92
Chuck Orr Jr. - 92
Jonah Smith - 92
Jeff Millwood - 94
Dennis Barnes - 95
Spencer Hynd - 96
---
| Greenville County Amateur sites | 2004 Greenville County Amateur Scores | 2006 Greenville County Amateur Scores | 2007 Greenville County Amateur Scores | 2008 Greenville County Amateur results | 2009 Greenville County Amateur results | 2010 Greenville County Amateur results | 2011 Greenville County Amateur results | 2012 Greenville County Amateur Results | 2013 Greenville County Amateur Results | 2014 Greenville County Amateur Results | 2015 Greenville County Amateur Results | 2016 Greenville County Amateur results | 2017 Greenville County Amateur results | 2018 Greenville County Amateur results | 2019 Greenville County Amateur results | 2020 Greenville County Amatuer results | 2021 Greenville County Amateur results |
---
| Return Home | Contact Us | Downloads & Applications | Greenville County Golf Association | Greenville County Amateur | The Cyder Cup Matches | Upstate Amateur Championship |