GREENVILLE COUNTY GOLF HALL OF FAME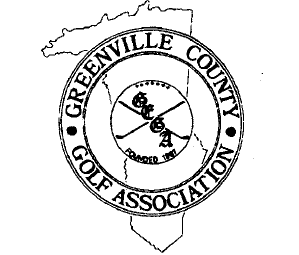 The Greenville County Golf Hall of Fame was established in 2003. The Hall includes great players and people that made great contributions to golf from Greenville County.
Leon Gravley

Leon was the Executive Director of the County Golf Association for 25 years until his death in 1991. For many years, he WAS the Greenville County Golf Association. This perfectionist of a man with a kind spirit built the tournament into something special.

Tommy Mullinax

What can one say to describe Tommy? Legend. having served as a golf professional at Carolina Springs, Chanticleer, Links O'Tryon, and the Cliffs, Tommy was an ambassador for golf. Known for long drives, trick shots, and practical jokes, Tommy, who died a few months ago, was loved by all.

Bill Pittman

Bill was long involved in golf in Greenville County. Along with his close friend, D.B. Evans, Bill helped start the first ever County Amateur Championship in Greenville County. Bill recently passed away and will be forever remebered as a golf pioneer in the County.

Dillard Traynham

Dillard Traynham has won more golf tournaments than most of us have played in. Dillard won the 1970 County Am, but has buckets full of other amatuer golf titles in Greenville County and around the state. Combined with being a true gentleman, Dillard is a true champion.

Grady Allison

Grady Allison started working with the Greenville County Golf Association tournamnets when Leon Gravley did. He is there at every tournament. He'll be there this year! From scoreboard, tee times, rules committee, pin placements, and whatever else needed done, Grady has done it all.

Mike Gravley
Mike Gravley is the all-time leader in County Amateur Championship wins with 6. He also served as President of the Greenville County Golf Association for 4 years. Mike has won numberous prestigous tournaments over his career and also played on the PGA Tour.

Chris Patton

Robbie Gravley

Robbie has been the President/Executive Director of the Greenville County Golf Association since 1996. He has kept the association alive and actually grown it from one tournament to five annual tournaments now. Three of those tournament that he created have grown outside of the Greenville area and include players from the Upstate of South Carolina and other states. The Upstate Amateur Championship was one of his creation and the tournament has become known as a "collegiate" tournament with college players coming from throughout the country as part of local SC/NC college golf programs. Robbie continues to find ways to grow the game of golf not only with the GCGA but through his work with South Carolina Junior Golf Association as well.

2004 Inductees
Larry Campbell

Larry served on the tournament committee for 35 Greenville County Amatuer Championships. Larry was a quiet, behind the scenes worker who always defered recognition to others, but was a true ambassador for golf in the Upstate.

Marilyn "Cathead" Stroud

Like "Arnie", "Jack", and now "Tiger", Marilyn Stroud was known and admired throughout the state simply as "Cathead". Always armed with a story & a smile, Cathead won the first ever Greenville County Amateur title back in 1968. He also won about every other title around Greenville & statewide. Part of the old Paris Mountain Country Club crew, Cathead is another County legend.





2005 Inductee


Frankie Impson

Frankie won the County Am Title in back to back years in 1974 & 75, and when Frankie was on his game it didn't matter if you were at his home course Lakeview or on yours, you had better have your "A" game with you. Frankie's younger brother Al was on his way to a Hall of Fame career as well before passing away at a young age to cancer. Frankie will be remembered for his game face and steely nerve under pressure.







2006 Inductee


D.B. Evans

D.B. started the Greenville County Amateur along with his close friend Bill Pittman back in 1968. Along with Evans, Pittman, and Leon Gravley, there have been quiet, tireless workers along the way to build the tournament into one of the most prestigious County titles in the State. D.B. has an amazing network of friends that know how much this man has given to golf in the Upstate.







2007 Inductee


Tommy Gaul

Tommy grew up playing on the rolling hills at Greer Country Club and became quite a talented player alongside the likes of Tommy Mullinax and Mike Gravley. Tommy won back to back Greenville County Am titles in 1971 & 72 before turning prifessional. Gaul served as a professional at Greenville Country Club for many years before entering private business. Tommy Gaul always will have an encouraging word and a smile for any golfer!










---
| Past Champions | Upstate Two Man Team Championships | Upstate Mid-Amateur | Hall of Fame |
---
| Membership Benefits | Join the Upstate Golf Club!! | Events Schedule | About Us & History | Allison Cup (Team Competition) | Upstate Senior / Mid-Am Championships |
---
| Return Home | Contact Us | Downloads & Applications | Greenville County Golf Association | Greenville County Amateur | The Cyder Cup Matches | Upstate Amateur Championship |